HTC Wildfire X Vs Samsung Galaxy A10s Vs Realme 3i: Specs Comparison
After announcing its departure from the Indian market a few months ago, HTC re-entered it again by launching a new affordable handset: HTC Wildfire X. It is the first phone from a revival of the old and iconic Wildfire series which made a lot of success in the past. But will it be able to contrast the fierce competition in the same segment? It will not be easy for HTC to push the sales of this device and, in order to establish whether or not it will stand a chance against the most important brands, we decided to compare it with two amazing entry-level devices launched in the last period. We are referring to the Samsung Galaxy A10s and Realme 3i: both debuted a few days ago and both look very promising. So, let's discover together if Wildfire X has the necessary potential to beat them.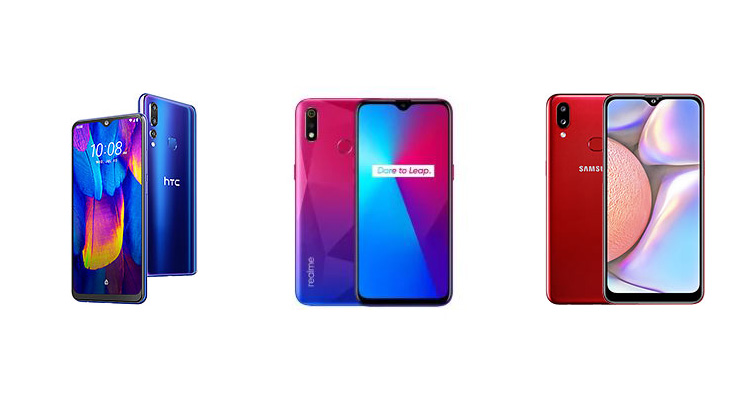 HTC Wildfire X vs Samsung Galaxy A10s vs Oppo Realme 3i HTC Wildfire X Oppo Realme 3i Samsung Galaxy A10s DIMENSIONS AND WEIGHT 156.7 x 74.9 x 8 mm, 160 grams 156.1 x 75.6 x 8.3 mm, 175 grams 156.9 x 75.8 x 7.8 mm, 168 grams DISPLAY 6.2 inches, 720 x 1520p (HD+), 271 ppi, IPS LCD 6.2 inches, 720 x 1520p (HD+), 271 ppi, IPS LCD 6.2 inches, 720 x 1520p (HD+), 271 ppi, IPS LCD PROCESSOR Mediatek Helio P22, octa-core 2 GHz Mediatek Helio P60, octa-core 2 GHz MediaTek Helio P22, octa-core 2 GHz MEMORY 3 GB RAM, 32 GB – 4 GB RAM, 128 GB – micro SD slot 3 GB RAM, 32 GB – 4 GB RAM, 64 GB – micro SD dedicated slot 2 GB RAM, 32 GB – micro SD dedicated slot SOFTWARE Android 9 Pie Android 9 Pie, Color OS Android 9 Pie CONNECTIVITY Wi-Fi 802.11 a/b/g/n/ac, Bluetooth 4.1, GPS Wi-Fi 802.11 b/g/n, Bluetooth 4.2, GPS Wi-Fi 802.11 b/g/n, Bluetooth 5, GPS CAMERA Triple 12 + 8 + 5 MP8 MP front camera Dual 13 + 2 MP f/1.813 MP f/2.0 front camera Dual 13 + 2 MP f/1.8 and f/2.48 MP f/2.0 front camera BATTERY 3300 mAh, fast charging 10W 4230 mAh 4000 mAh ADDITIONAL FEATURES Hybrid Dual SIM slot Dual SIM slot Dual SIM slot Design
Waterdrop notches, narrow bezels, and high screen-to-body ratios. All amazing designs to be simple entry-level devices. But their bodies are made of polycarbonate. Realme 3i and HTC Wildfire X look better because they have a slightly higher screen-to-body ratio and more sophisticated back covers with patterns and reflections. Which one you should go for among these two handsets is up to your tastes. I would choose the Wildfire X because it is thinner and lighter.
Display
Here it is essentially a draw as you would not notice huge differences between the displays of these handsets. All of them come with the same diagonal as well as the same kind of panel, the same pixel density, and the same resolution. So go ahead and do not focus so much on the display. In each case, you get a sufficient panel if you consider that we are talking about very affordable phones.
Specs & Software
Given that it features a way more powerful chipset, Realme 3i wins the hardware comparison. We are talking about the Helio P60 which is faster and more suitable for multi-tasking, compared to the Helio P22 found on both the HTC Wildfire X and Samsung Galaxy A10s. The only advantage of the HTC Wildfire X is that it comes in a variant with more internal storage: up to 128 GB. We would not choose the Samsung Galaxy A10s because it only sports 2 GB of RAM. Android 9 Pie is out of the box.
Camera
HTC Wildfire X has undoubtedly the most interesting rear camera department as it is the only with triple camera setup and one of the few entry-level phones to feature 2x optical zoom. We also like the pixel size of the main sensor which should help to capture more light in the dark. But when it comes to the front camera, Realme 3i should win the challenge because of its higher 13 MP resolution and 1080p video recording.
Battery
Realme 3i has a huge 4230 mAh and, despite we still did not test the batteries of each of these phones, we are pretty sure that it will last more in a lot of scenarios. The second place goes to the Samsung Galaxy A10s which still features a nice 4000 mAh battery, while HTC Wildfire X disappoints with just 3300 mAh, but this does not mean that its battery life will be bad.
Price
Prices and availability of the Samsung Galaxy A10s are still unannounced, but we know that HTC Wildfire X will start from €150/$170 and Realme 3i costs €100/$110 in its base variant. Even though it carries a more affordable price tag, Realme 3i looks a more valid alternative compared to its rivals, unless you want the most amazing rear cameras (in this case go for the HTC Wildfire X). If you do not care about cameras, Samsung Galaxy A10s is a more valid alternative to the HTC Wildfire X as it features a much bigger battery, but overall, it does not make so much sense to choose it instead of the Realme 3i.
HTC Wildfire X vs Samsung Galaxy A10s vs Oppo Realme 3i: PROs and CONS
Realme 3i
PROs
Nice design
Bigger battery
Good cameras
Micro SD dedicated slot
High performance
CONS
Samsung Galaxy A10s
PROs
Big battery
Nice cameras
Micro SD dedicated slot
Bluetooth 5.0
CONS
HTC Wildfire X
PROs
More versatile cameras
More internal storage
Good WiFi connectivity
Nice design
CONS